I love summer. I mean, what's not to love? Lots of BBQ's, warm summer nights, sand volleyball, sun-kissed skin, sweet tea, summer playlists, and sleeping in, of course. Sleeping in just puts me in a good mood.
So, in honor of sleeping in, (and summer in general), I'm pleased to announce the Summer Lovin' Contest!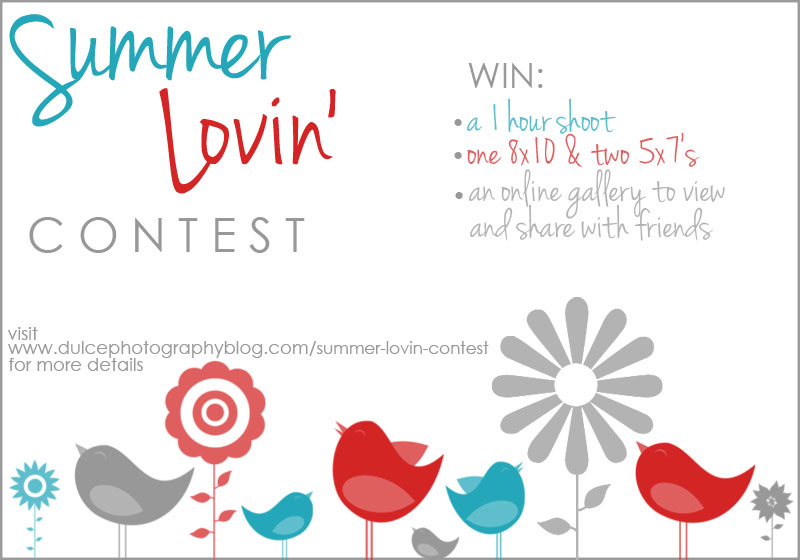 Here's the low down…
What do you win? An hour photoshoot, one 8×10, two 5×7′s, and an online gallery to share with family and friends, as well as order additional prints.
How do you win? Easy-peasy. Simply leave a comment below telling me what kind of shoot you want to win, and one (or a few) of your favorite songs for this summer. (I could use a couple more good ones to add to my summer playlist ; ) On Monday the 1st of August, a winner will be chosen randomly from the comments.
Rules: 1. Anyone can enter, but please note that if the location is an hour or more outside of Park City, UT, travel rates are applied. 2. One entry per person, but not per party. (A.k.a if you are entering to win an engagement session, both you and your fiance are allowed to leave a comment.) 3. This photoshoot can be applied to any sort of session (engagements, bridals, family, portrait, senior, etc.), but not an event (wedding, birth story, etc.). 4. The winner must schedule the shoot before the end of 2011.
Sound good? Ok, on your mark, get set, go!!!
Happy weekend : )