I have a collection. Of bowls. Around my desk.
It's probably not what you're thinking. It's not some sort of awesome collection of hand-made and painted bowls from Egypt to add a level of artwork and sophistication…
They're old cereal bowls. My old cereal bowls.
I'm not proud of it. And I don't mean to leave them there. I really don't. But I feel like it's inevitable. I mean, when you have someone who's obsessed with cereal and has tunnel vision like I do, it's bound to happen. When I bring my bowl of cereal up to my computer to work and eat, I have every intention of bringing it back down when I finish. The problem is, by the time I'm done at the computer, I've been done eating for such a long time, and I've been so focused on whatever I've been working on, that I completely forget there's a bowl at the corner of my desk. And then two bowls, and then four bowls stacked on top of each other, etc.
Sadly, they end up sitting there either until they become so many that they start encroaching my space and I'm forced to move them, or until Jake simply gets sick of looking at them. I prefer the latter. Fortunately, that's what normally happens. And when he gives me a hard time for leaving them out, I just remind him that HE proposed to ME, so he's stuck with me ; )
This month's Friday Fun Facts!
1. Just because something is vegan does not mean it's healthy. Totally ruined my day when I realized vegan chocolate cake is just about as bad for you as regular chocolate cake is…
2. Snap Boogie should be this year's America's Got Talent winner.
3. Speaking of TV, how great does New Girl look?! (I might have had a crush on Zooey Deschanel ever since Elf.)
4. Facebook failed yet again when they decided to automatically turn all : ) into :). Anyone else as majorly annoyed by those big yellow faces as I am?
5. Sometimes I speculate about how great it would be if we were all bald. Seriously, think about it. All the hours would be saved if we didn't have to do our hair….
6. Larabars are the best thing that happened since Fruit Leather.
7. If you're suddenly hit with the strong desire to make some real homemade lemonade, the heavier lemons hold more juice, not the bigger ones. So look for the heavy ones.
8. I'll be attempting not to die running my very first marathon tomorrow. If you feel like sending up a few prayers of encouragement, they'd be much appreciated!
And since you're all dying to know what I ate for my pre-marathon meal tonight, I took a picture of it. (More like I couldn't think of anything else to take a picture of, and I wanted to show Jake because he was at work and I made this all by myself. Minus the broccoli. My friend Christine did those. I swear I'll learn how to cook someday…)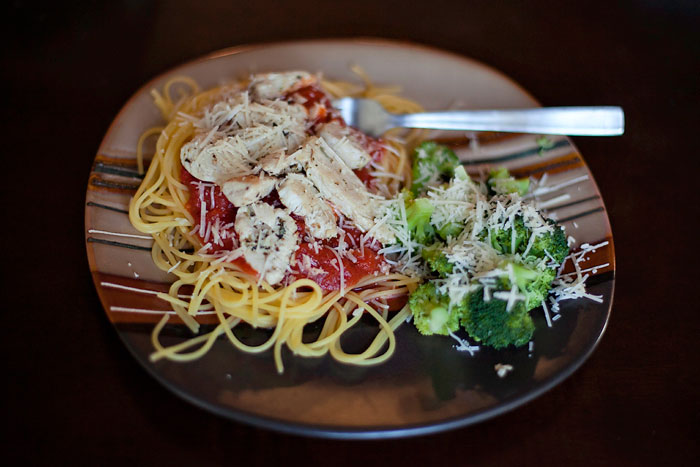 Lemon Herb Chicken on top of spaghetti sauce and quinoa noodles with steamed broccoli and some cheese sprinkled on top! Yum. And on that note, I'm off to get some zzz's.
Hope everyone has a great weekend : )